Welcome!

We're a UK based community of cult entertainment fans - so whether you're into WWE, Marvel, DC, Game of Thrones, Walking Dead, Star Wars, Doctor Who, Star Trek and more - join us!

It's free to

register

, so why not sign up and discuss whatever you're into...
WWE Royal Rumble Discussion Thread- January 27, 2008 from New York City, NY
The 21'st Annual WWE Royal Rumble will come to you, live, from Madison Square Garden in New York City on January 27.​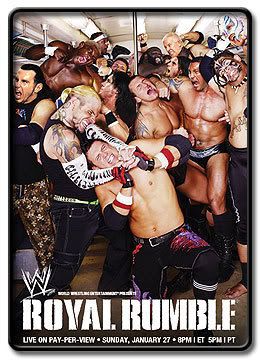 Confirmed Matches/Events
30-Man
Royal
Rumble
Match:
Participants- Umaga, Snitsky, Hardcore Holly,
"The Miz", John Morrison,
Hornswoggle, Mick Foley,
Finlay, Jamie Noble, Batista, Kane, The Undertaker,
Cody Rhodes, Carlito, Santino Marella, Shawn Michaels,
Shelton Benjamin,
Mark Henry, The Great Khali,
Mr. Kennedy, Triple H,
Tommy Dreamer, Big Daddy V,
Chuck Palumbo,
CM Punk,
WWE Championship:
Randy Orton (c) Vs. Jeff Hardy
World Heavyweight Championship:
Edge (c) Vs. Rey Mysterio
JBL Vs. Chris Jericho
Win Or Retire #5:
Non-Title:
Ric Flair V
s. MVP
​
Last edited:
Well-Known Member
Senior Moderator
Subscriber
Messages

23,130
Points

98
At least we know Jeff isn't going to be winning the Rumble.
Batista will win the Rumble, and if not, HHH.
Punk will beat Mark Henry actually Craig.
I say HBK wins the Rumble and Jeff beats Orton.
Jeff vs HBK at WM for the WWE Title in a Ladder Match.
Hoepfully the WWE will regain sanity and keep the belt round Orton, anything is better than Jeff having it. I mean why? Jeff beating HHH is one of the worst decisions in WWE history and now he gets a title mach for it, its all wrong. Keep Jeff where he belongs, the mid card
i cant see jeff winning the title but will mkae for a good match for sure
Messages

13,151
Points

63
HHH or Tista to win the rumble. If he had not won it last year I might even add taker but nah.
It'd be interesting to know where the theory came from that Jeff Hardy is a potential main eventer,he's nowhere near well rounded enough to be sharing the ring with the likes of HHH,HBK and company so he should be kept in the mid-card and work on being a great intercontinental champion.

Come the rumble I'd like to see Mr Kennedy get involved in the WWE title match and cost Jeff his opportunity,this could lead to the two revisiting their promising feud from a month or so ago that could conclude at Backlash (as is traditional for most mania matches to be replayed at backlash)
Does Batista throw someone through the train window who has Benoit's tights? :?
Look at the comments under the Royal Rumble video:
lol hbk lol umaga lol batista
Damn smarks, ruining the Internet.
Michael Buffer would be perfect for the Royal Rumble announcing duty.
Michael Buffer would be perfect for the Royal Rumble announcing duty.
LOL REJECTS, LOLZ WCW 2007, LOLZ RATINGS, SMARKS, BOOKING, LOLZ.
Wasn't sure what point you were trying to make, so I'm conceding that you don't have one and someone just hijacked your account.

Was great to see Buffer in the ad. I still maintain that he would be fantastic for a Wrestlemania main event announcement.