Welcome!

We're a UK based community of cult entertainment fans - so whether you're into WWE, Marvel, DC, Game of Thrones, Walking Dead, Star Wars, Doctor Who, Star Trek and more - join us!

It's free to

register

, so why not sign up and discuss whatever you're into...
Status

Not open for further replies.
Messages

10,741
Points

63
'Megs that's awesome. Love it. Gonna try to put that in somehwhere. I may give my entrance it's own entrance, like The Rock 2003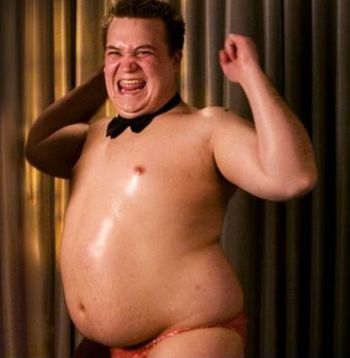 Wrestler's Name: Dancing Dick
Alias(es): The Dancing Apple, The Big Dick
Height: 6'3"
Weight: 350 lbs
Entrance Music: Something Disco
Hometown: New York City
Wrestling Style: (please select 2 at the very most - and try make them compliment each other)
Power / Brawling
Brief Profile: To Do
Entrance(s):
To do
Signature Move(s) : (max 3) - Bearhug
Finishing Move(s) : (max 2: 1 power, 1 submission) Big Splash
Alignment: Face
Last edited:
I love it already!
As you migyht have seen I;ve pinned a profiles thread in this forum. this is going to be the live roster so if you want to make a change to your profile post the fully updated one here stating you want it changed and then I can edit that thread to match.
[video=youtube;z1jLdxRD2ZQ]http://www.youtube.com/watch?v=z1jLdxRD2ZQ&feature=youtu.be[/video]

again, since I started messing about with After Effets again. Though you need to watch in HD otherwise it looks sh*t.
I think I'd like to use Rico's old theme. purely because I always liked it and it'll be very funny...

[video=youtube;iWsGeygQkQE]http://www.youtube.com/watch?v=iWsGeygQkQE&feature=related[/video]
Wrestler's Name: Matthew Kennedy Denton
Alias(es): Cardinal of Controversey, The Affluent Assh*le
Height: 6'5"
Weight: 240 lbs
Entrance Music: "Cool" by World Without Logos
[video=youtube;vUyBxQQSxBA]http://www.youtube.com/watch?v=vUyBxQQSxBA[/video]
Hometown: Miami, Florida
Wrestling Style:
Martial Arts / Submission
Brief Profile: Once a man endeavoring to take over TWOStars, Matt Denton returns to his evil ways, despite a short period of time where he tried to amend his wrong doings. He once held the TWOStars Television Championship, now he rejoins TWOStars looking to claim the World Title that has eluded him for so long. Oh and he also happens to be obscenely wealthy, rubbing his affluence (giggity) in the faces of those less fortunate.
Entrance(s):
The lights dim down to complete darkness, as do all of the screens that comprise the Omega-Tron. The drums and opening guitars of "Cool" by The World Without Logos begin to play accompanied by the main screen lighting up with a shot of a room with $100 bills falling slowly. Overlayed are three dollar signs that swivel around revealing the initials M.K.D. Purple spotlights beam down upon the base of the stage as a figure walks out. It's Matt Denton wearing his wrestling attire and a black sleeveless trench coat.
Chimel: Now introducing, from Miami, Florida; weighing in at 232 pounds... He is MATT DENTON!
The lights brighten up a bit as he struts down to the ring avoiding eye contact with the "peons" that make up the crowd. He leaps up onto the ring apron and climbs in taking residence in a neutral corner.
Signature Move(s) : (max 3)

Credit Crunch
-
Butterfly DDT (Ala Drew McIntyre, but with PermaSmirk theatrics.)
DAS SUPLEXEN~!
-
German Suplex (Commentators just yell DAS SUPLEXEN~!, that's it. No "Denton hits Das Suplexen." just DAS SUPLEXEN~!)
Running High Knee Into The Corner, transitioned into an MVP style facebuster.
Finishing Move(s) :
A.T.M
-
Styles Clash, but intead of laying flat out, Matt drops to his knees driving his opponent's skull into the ground.
Money Clip
-
Reverse STO transitioned immediately into the Koji Clutch
Alignment: Heel
Last edited:
Hey Arse! I made you an f-ing titan tron!
Great to see you sign up!
I figured you did, but I'm lazy so I didn't go look. Plzdontjobmeout<3
Chaotic Good
Forum Leader
Subscriber
Messages

15,032
Points

83
Getting the footage for Jaxx's video is playing merry hell with my youtube recommended videos list....
Well-Known Member
Subscriber
Both of mine now fully updated.
Can you do me a massive Favour please Rudie and repost them rather than re-editing? I know at the moment it;s easiest enough to track them down but when the thread gets to like 30 pages (hopefully!) I'll never know where stuff is!
Also, Keith Jaxx's tron is done and I love it! So much fun to make. First one where genuinely I've got to the end of the full track and been happy, even with the repeated sections.
I'll post it here when it's finished uploading to youtube.
[video=youtube;T0xnzjWqME8]http://www.youtube.com/watch?v=T0xnzjWqME8&feature=youtu.be[/video]
Status

Not open for further replies.